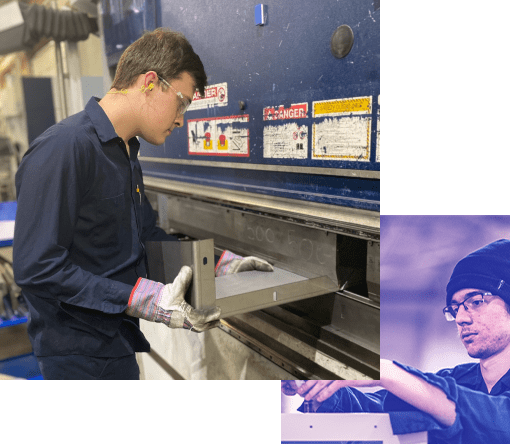 At Klassen Fab. Inc. we pride ourselves on paving the way for leaders in our industry. Our employees are the backbone of our business, allowing us to service more than just Windsor and Essex County.
We are the preferred shop for many customers in the GTA as well as many of our neighbouring Americans States.
Our Two Biggest Priorities are: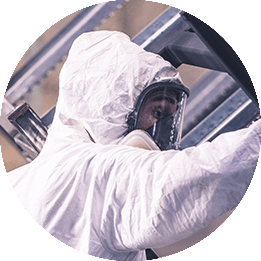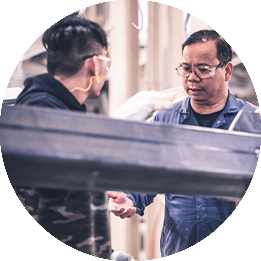 We are hiring for the following positions:
Fitter / Fabricator
– Read and interpret blueprints or welding process specifications and assembly drawings
– Operate manual or semi-automatic welding equipment (MCAW and GMAW)
– Determine weldability of materials
– Operate hoisting and lifting equipment
– Ensure accuracy and completion of assigned tasks and projects
– Operate saws, drills, and ironworkers to fabricate according to drawings
– Preferred 2 years experience in a welding or fabrication setting
– Experience with all types of fabrication tools and processes preferred
– Must have an understanding of welding/fabricating
– Good use of measuring tools is required
– CWB welder certification not required
Laser Operator
– Reading and understanding blueprints and mechanical drawings
– Knowledge/use of appropriate tools to keep machines in operation
– Attention to detail; adherence to all standards of quality and safety
– Addressing machine malfunctions in an efficient and expedited manner
– Administer routine checks/maintenance
– Ensuring that projects are implemented/completed according to timelines
– Plan the sequences of operation to achieve optimal precision and tolerances
– Preparing raw materials for production
– Experience using measuring tools
– Forklift experience an asset
– Preferred 1 year experience
Industrial Painter / Powder-coat
– Preparation of products and sub-assemblies for painting operations.
– Ensure you follow all health and safety policies and procedures.
– Responsible for removal of splatter, weld defects, etc. prior to paint.
– Painting and powder-coating of products, components, and sub-assemblies, as per drawings, specifications, and supervisors directions.
– Follow paint suppliers mixing and recoating instructions to ensure proper results.
– Perform upkeep and maintenance duties on all painting & blasting equipment
– Care and safety for you, others, equipment and property,
– Experience with Airless Spray Gun & Air assisted Spray Guns
– Experience Spraying to a Mil thickness
– Preferred 1 year experience
Assembly
– Knowledge of air tools, hand tools, tapping machines and hoisting / rigging equipment
– Must be able to follow written and verbal instructions to carry out work order instructions along with the ability to read drawings
– Position requires good communication skills
– Mechanically inclined; Strong attention to detail
– Ability to perform all physical requirements, ability to lift up to 50lbs
– Ability to work in a fast-paced environment and keep up with the daily demands of production and work completion deadlines
Press Brake Operator
– responsible for programming and operating a CNC Trumpf Brake Press.
– Operate brake press machine
– Run bend and forming operations on Multi bend parts using standard and custom tools
– Use a CNC controller to input information into machine
– Adjust ram and back gauge locations per process control instructions and blueprints
– Check heights, depths and thicknesses using micrometers, dial indicators, calipers, gauges and other precision-measuring instruments
– Perform complex programming using all features of the brake press
– Work within designated tolerances
– Produce parts for assembly operations
– Meet customer specifications and delivery requirements
– Program the CNC to produce new parts meeting specifications
– Perform inspections of parts
– Perform all required routine and minor maintenance activities according to procedures
– Complete and maintain paperwork
– Configure bend allowances for sheet metal (stainless, aluminum & regular steel)
– Check machine for defects
– Ensure machine is calibrated and cleaned Ability to read mechanical drawings
Education / Experience:
– 2+ years of experience operating and programming a CNC Trumpf or similar. Experience with Trumpf equipment is preferred
– Solid background working with sheet metal
– Knowledge of tooling and tool maintenance
– Proven measurement and mathematical fraction/decimal conversion skills
– Ability to distinguish material types, including aluminum, steel and stainless steel
– Ability to follow written and verbal instructions
– Ability to multitask and prioritize in an effective way
– Candidate must be a strong team player
– Ability to read, write and speak English
– Ability to use various measuring equipment
Klassen provides on-site training and continual improvement opportunities to their employees.
Do you have what it takes to work with us?
5140 Ure Street
Oldcastle, ON N0R 1L0
| | | |
| --- | --- | --- |
| | Sunday | CLOSED |
| | Monday | 7:00 - 5:30 |
| | Tuesday | 7:00 - 5:30 |
| | Wednesday | 7:00 - 5:30 |
| | Thursday | 7:00 - 5:30 |
| | Friday | 7:00 - 4:30 |
| | Saturday | 7:00 - 12:00 |