Klassen Custom Fabricating has the manufacturing capabilities to fabricate the most complex designs for your most demanding projects. Klassen will build fabrications to supplied prints or to sketches developed by our field engineers.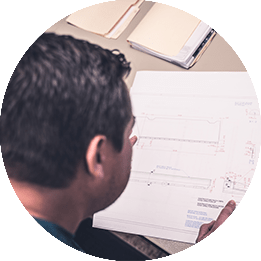 You Provide your Own Design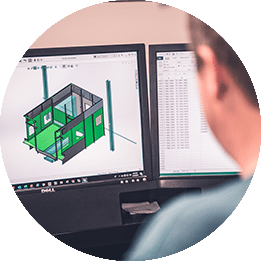 Klassen's Team of Engineers Design it for You
At Klassen Custom Fabricating, our experienced field engineers turn your needs into finished designs. If no plans are provided, Klassen field engineers will take all the necessary measurements and sketches required for quotation and finished design.
You can rely on Klassen to produce the field engineering designs needed for fabrication and then manage the project through to installation.
Klassen provides expert field engineering for machine guarding, sound enclosures, stairways, mezzanines, and general metal fabrication. Our field engineers can suggest improvements or alternatives if needed. We can recommend improvements in areas of assembly, maintenance, and accessibility.
You can count on Klassen's field engineering to oversee the design, delivery, and installation of your project.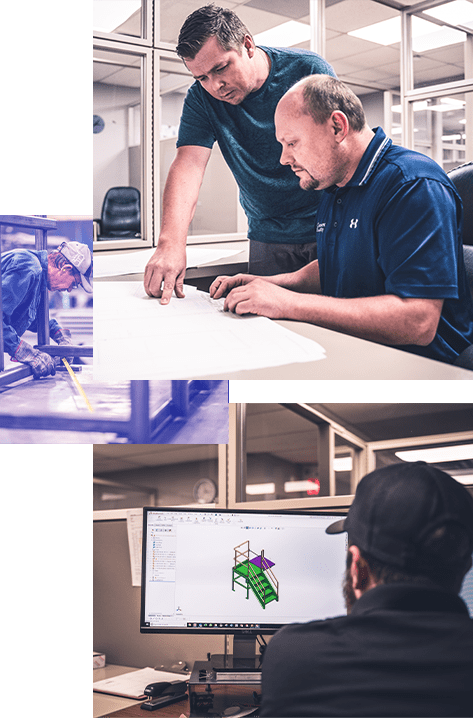 Design
Custom Sheet Metal Forming
Manufacturing
Water Jet Cutting
Welding
Laser Cutting
Paint
Power Coat
Fabrication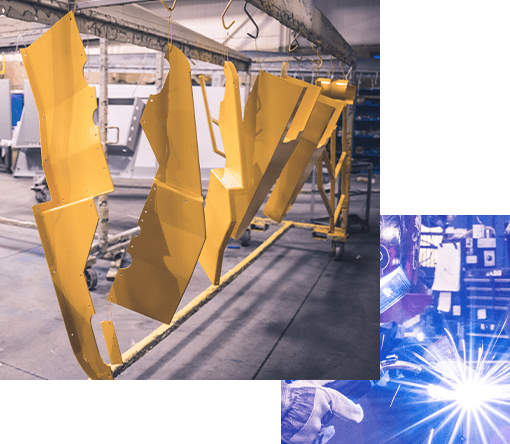 Klassen Custom Fab. Inc. is committed to providing custom sheet metal fabrications to all customers. Our commitment to ISO 9001 assures our customers a reliable management system, designed to deliver quality products that will be delivered in a timely manner and within budget.
This is achieved through teamwork, training and continual improvement.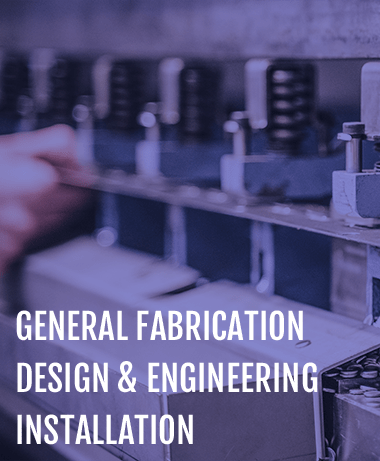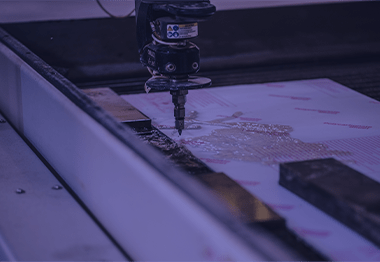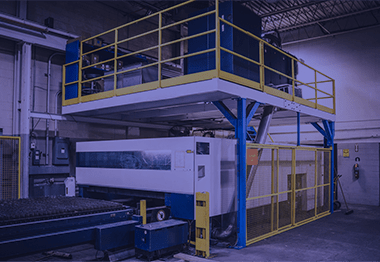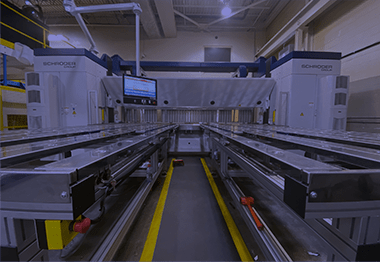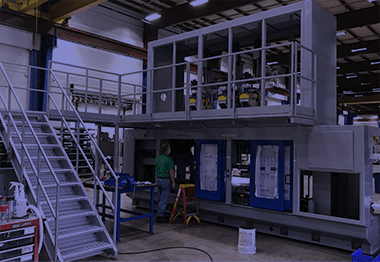 Specializing in Design, Manufacturing, Fabrication, Assembly, Stainless & Aluminum, Machine Guards, Electrical Enclosures, (CSA, UL & CWB Certified), Hydraulic & Coolant Reservoirs, Powder coating and painting.
Our highly skilled work force will design, co-ordinate, fabricate and install your next steel project to meet customer requirements.
SHEET METAL FORMING
Trumpf 5170 w/10ft bed
Trumpf 5320 w/14ft bed
Trumpf 5170 w/14ft bed
Schroeder Max4 Evolution CNC Folder Machine 158"W x 180"L bed
Sampson Three Roll Bending Machine 60"L ¼" Max thickness to roll
METAL CUTTING MACHINES
Trumpf Laser149 (TL3030) – 4000 watt w/60″x12″ bed
Trumpf Laser120 (TL3040) – 5000 watt w/84″x162″ bed
Cincinnati Laser (CL956C)
Messer Plasma/Torch Model No. Titan 10-16-6278 w/162″x100″ bed
Omax Waterjet Cutting Machine w/60″x120″ bed
Rebel Pro Shear 1/4×10
WELDING MACHINES
(23) Mig welding machines
(4) Tig welding machines
(4) Stud welding machines
(2) Spot welding machines
MACHINING
Fryer CNC Mill – Model VB-80
Fryer CNC Milling Machine VB-100
Fryer CNC Slant Bed Lathe – Model SL-10
ProtoTrak CNC Mill FHM5 & FHM7 P/N 25083
Trak Bed CNC Mill ProtoTrak SMX CNC P/N 24495
MATERIAL HANDLING
(6) 5 ton Overhead Cranes
(9) Jib Crane
(3) 6000 lb Clark/Nissan Forklifts
(1) 12,000 lb Clark Forklift
(1) Walkie Pallet Lift (Crown)
PAINT
(2) Spray Booths for Paint & Powder-Coat (Booth #1 12'W x 10'H x 28'L, Booth #2 14'W x 10'H x 28'L)
(2) Power Coating Machines
Batch Oven 14'W x 10'H x 30'L
MISC EQUIPMENT
(3) Band Saws
Haeger Pem Stud Machine 824
Patriot 2 Deburring & Finishing Machine
Sweco Finishing Mill
(4) FlexArm Tapping Machines
(3) Power Washers
Polishing Machine
(4) Compressors
DELIVERY
1 Pick-up Truck
2 Flatbed Trucks 26'
1 Tractor w/ 53' Trailer
1 Roadclipper Flatbed Trailer 24'
5140 Ure Street
Oldcastle, ON N0R 1L0
| | | |
| --- | --- | --- |
| | Sunday | CLOSED |
| | Monday | 7:00 - 5:30 |
| | Tuesday | 7:00 - 5:30 |
| | Wednesday | 7:00 - 5:30 |
| | Thursday | 7:00 - 5:30 |
| | Friday | 7:00 - 4:30 |
| | Saturday | CLOSED |